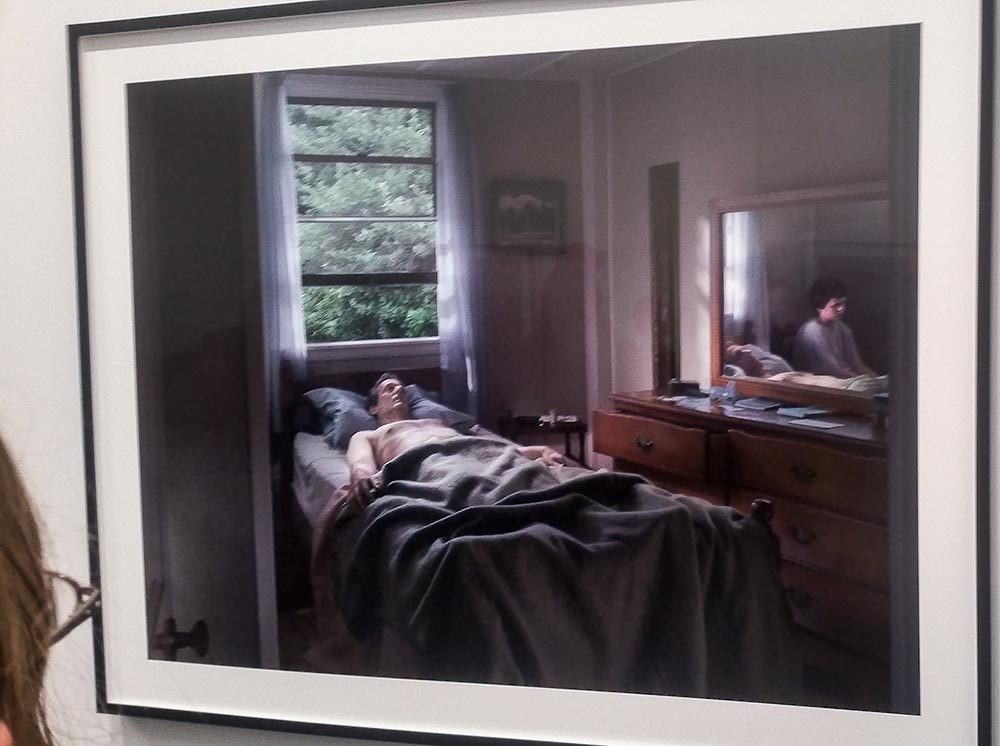 A look a new photograph by Gregory Crewdson in "Cathedral of the Pines" at Gagosian Gallery, Chelsea
"Cathedral of the Pines," the carefully lit and cinematically constructed photographs by Gregory Crewdson at Gagosian Gallery, Chelsea, is his latest show after a five year hiatus, and seemingly continues where earlier series left off. I suppose it's easy to see "COTP" (as the group of work is sometimes known, especially when used with a hashtag) as an extension of older notions and themes by Greg Crewdson, but I think the work here–or certainly several pieces in particular–could be indicative of a subtle but radical break.
On the surface, "Cathedral of the Pines," at the 21th Street branch of Gagosian gallery seems quite similar to older work by Gregory Crewdson. True, the colors are more muted, the lighting more even, and the subjects seem more grounded in interior human relations (both literally and figuratively). Yet the show is a departure point, representing a further, deeper dive into a near seamless melding of film, photography and painting. (full disclosure: I was a fellow graduate student at Yale during Greg's time there).
This piece here above (Father and Son, Digital pigment print. Image size: 37 1/2 × 50 inches. Edition of 3 + 2 APs, Gregory Crewdson), for example in the show at Gagosian, seems simultaneously complex, clear and ambiguous–not necessarily because of the narrative of the piece–but because of the various mediums at play here.
Although "Cathedral of the Pines" might be more closely aligned with American film directors, when I look at this, I think of Hitchcock. Watching Vertigo, or the seeing cornfield scene in North by NorthWest, I take in the lush color, psychological undertow, precise framing, and illustrious detail, and become willing to suspend belief in reality, momentarily at least. Indeed, these are mechanisms that aid moving beyond artifice, resulting in a new place, one that inhabits both the real and the unreal, and perhaps this is at play here with Crewdson. Would a boy really be standing there in the room, etc.? Of course not, but, as with Hitchcock, reality doesn't matter in the "Cathedral of the Pines": it's the tension between what is believable and not–that in between space–that drives the work, moving us beyond the here-and-now by using the real world as a reference point for departure.
Adding additional complexity, the image is built as if a painting, constructed over a period of time. Also akin to painting, there are other elements that lend the image to be "read" as a painted piece (the way the body lies; the framing and structure, perhaps similar to an Edward Hopper or Mantegna). Lastly, there is photography itself, which is made to capture only one moment, and does so with extreme detail and as an omniscient witness (voyeur?), yet time seems to expand, encompassing not just a split second but a whole moment encapsulated in one image.
So all these swirl together–artifice, control, time; film, painting, photography–competing and complementing each other, building into a new thing. The final output of this ambitious mix/mashup of mediums is beyond intriguing: it's exciting to see things bent. "Cathedral of the Pines," by Gregory Crewdson at Gagosian Gallery, Chelsea through March 5th.