August 10-September 10, 2021
Project Brief
This fine art photography project documents climate change for one month in Greenland while collaborating with native Greenlanders, resulting in exhibitions and books.
Benefit:
Sponsor's brand included in media events and press releases
Exclusive photo and video content
Mention in social media posts and live-streaming
Logo in presentations and lectures
Long-term connection in the form of exhibitions and books
Receive art photo print valued at $6,000
Being aligned with NFTs; Disability groups; Scientists
Audience:
Companies and corporations interested in sustainability
Environmental and related groups
Indigenous/native people and related organizations
Disability-centric organizations
Galleries and museums
Equipment and travel sources
News and journalists
Those interested in NFTs, new technology, social media
Request:
Donation equipment
Promotional assistance
Funding of $5,185 for the trip; $10,000 to help mount a follow-up exhibition
Contact Details
Steve Giovinco
166 Second Avenue
New York, NY 10003, USA
+1 347-421-7598
info@34.130.74.10
www.stevegiovinco.com
Please find detailed information as well as Appendix for Budget, Project Significance, and Sample Photos.
Project Summary
Fine art photography project tracing climate change in Greenland.
Partially funded by a second American-Scandinavian Foundation Grant and the Vitec Group Plc.
Fulbright Fellow Arctic Alternate; shown art in over 90 museum and gallery exhibitions, in major international collections; 60-year-old with disabilities.
Funding request due to exponentially higher additional travel expenses due to Covid restrictions and exacerbation of my medical condition. 
Will exchange signed, limited edition print, worth $6,000; mention in talks, presentations, social media posts, and forthcoming exhibitions and book.
Non-Fungible Tokens or NFTs will be used; a portion of potential NFT/prints sales are donated back to the community. 
Request of $5,185 for travel; optional $10,000 for photo exhibitions.
Benefit Details
The project focuses on the environment, sustainability, and local indigenous people, which aligns with company CSR goals.
Benefits include: brand in media events and press releases, exclusive photo and video content, mention in social media posts, logo added to presentations and lectures, long-term connection in the form of exhibitions and books, receive a fine art photo print valued at $6,000 and being aligned with NFTs, disability groups, scientists.
Sponsor in Media Events and Press Releases to gain recognition and visibility. Any interview, blog post, article, or other PR active will include mention of the business. Vice wrote an article about the initial.
Exclusive Photo and Video Content will be offered to sponsor as well as other related media.
Social Media will be actively used in real-time and afterward on multiple social media platforms where the sponsor will be tagged and/or mentioned. Posts include images, comments, and live stream on Instagram, TikTok, Snapchat, Twitter, and Facebook to develop both local and international interest in the project.
Talks, Presentations will be given at arts and climate change-oriented organizations, such as at the Yale Club where a talk was given after the first trip. Logos and the brand will be included in these.
Fine Art Museum or Gallery Exhibitions will be given in New York and internationally. The sponsor will be aligned with these efforts for several months before, during, and after the show(s).
Print Worth $6,000 could be donated, which could be displayed publicly, in a corporate office, or auctioned for a charity.
NFTs or Non-Fungible Tokens will be used, and possibly for the first time, a portion of any sales will be given back to indigenous communities, which the sponsor will be uniquely associated with, reaching new younger audiences.
Disability Community will be reached out to, specifically psoriatic arthritis and fibromyalgia groups as well as others.
Outreach and Networking with many dozens of scientists, artists, organizations, government agencies, etc.
Americans might see the arctic as primordial and untouched but embodies climate change, representing dramatic environmental and political shifts. Since this is difficult to comprehend for most people, evocative and beautiful photographs help make this real. This is an opportunity for the sponsor to reach new, diverse, and engaged audiences.
Audience Details
The target audience is focused on those interested companies and corporations interested in sustainability, the environmental and related groups, indigenous/native people, disability, art/photography, giving back, social media, and new technology such as NFTs.
They are educated, progressive, urban, and professional. Probably looking for inspiration after lock-down, they are ready to escape into something completely different and could see them as a progressive leader in these areas.
Request Details
The request is transportation, equipment, promotion help:
Donation of Alpha 1 camera
Project promotion, such as content distribution to news outlets and other sites.
OPTIONAL $5,185 to be spent on travel from Copenhagen to Narsarsuaq (round trip; days flexible); additional helicopter travel and logistics from Tasiilaq to Helhiem Glacier; specialized trekking equipment (see Budget in Appendix).
OPTIONAL $10,000 cash support for later exhibitions, including printing a portfolio of twenty 40×50"/100x130cm fine art prints ($300 x 17) plus framing.
Need for Support
Due to Covid-19 restrictions, travel is still restricted, resulting in higher than expected airfare expenses, tripling the flight costs, adding twenty-five percent more travel time, exponentially expanding the initial budget. Specifically, the flight must be made from New York to Copenhagen, then to Narsarsuaq, wait five days in quarantine, and fly to Kulusuk, East Greenland.
Also, chronic and debilitating medical conditions have exacerbated over the last year, requiring the need to hire trekking guides and buy specialized equipment.
Finally, the American-Scandinavian Foundation grant and the Vitec Group Plc., provided some support but since it covers only a portion of the expenses, it would force dipping into extremely limited personal savings, which has been depleted to almost nothing due to Covid-related unemployment last year.
Project Details
The aim is to document drastic environmental shifts occurring in arctic East Greenland, where ice is melting at about three feet an hour at Helhiem Glacier.
Since climate change is hard to grasp, the hope is that evocative photographs will help promote this crisis. Working with indigenous people and local groups is key, and a portion of any photo prints or NFT sales will be donated back to the community.
Additionally, identifying as someone with disabilities, suffering from progressive psoriatic arthritis and fibromyalgia, the dream is to return to the arctic for my sixtieth birthday (August 31, 2021).
Generous support will allow the completion of this project that I am deeply committed to. Importantly, it is crucial to return before the land metamorphoses further.
About Steve Giovinco
Steve Giovinco is a New York-based photographer. Tracing environmental change, his work focuses on eerie long exposure night landscape images. Public and private collections including his photographs, are the Brooklyn Museum of Art, Museum of Fine Arts, Houston, and the California Museum of Photography. Exhibitions of his work include the Contemporary Art Center, Cincinnati; Museum of Contemporary Art Georgia; Winnipeg Art Gallery; White Columns; Sadler's Wells, London; Gyeongnam Art Museum, Korea. He's a Fulbright Fellow Alternate, attended artist residencies at Yaddo, and received numerous grants. He was commissioned by one of the first blockchain art platforms, Monegraph. Giovinco earned an MFA from Yale University. 
Appendix: Budget
Total expenses: $ 9,085
Financing for the August, 2021 trip is from grant $ 5,000
OPTIONAL Requested amount: $ 5,185
OPTIONAL Additional request for exhibition: $10,000
| | |
| --- | --- |
| Item | Costs |
| New York To Copenhagen R/T | $500.00 |
| Copenhagen to Narsarsuaq R/T | $1,250.00 |
| Narsarsuaq to Kulusuk R/T | $1,200.00 |
| Helicopter | $1,000.00 |
| Tent | $700.00 |
| Backpack | $500.00 |
| Sleeping Bag | $700.00 |
| Sleeping Pad | $150.00 |
| Cooking | $120.00 |
| Solar Panel | $300.00 |
| Food | $320.00 |
| Hotel Narsarsuaq | $800.00 |
| Room and Board East Greenland | $400.00 |
| Meals | $120.00 |
| Shoes/Boats | $150.00 |
| Specialized clothing | $600.00 |
| Helicopter Narsarsuaq | $275.00 |
| Trekking guide 10 days ($100×10) | $1,000 |
| Camera equipment | $100.00 |
| TOTAL Expenses | $10,185.00 |
| TOTAL Current Grant | $5,000.00 |
| TOTAL Outstanding | $5,185.00 |
| Optional | |
| Printing/framing cost for exhibition | $10,000.00 |
Appendix: Project Significance
The fine art night photography project "Darkland," traces changes to ice and land in extremely remote East Greenland while engaging with local communities.
The focus is on the fast-retreating Helheim Glacier, melting at about three feet an hour, accelerating due to climate change.
Working directly with native people is key. Members of the Greenlandic community will help identify specific points of climate change occurring in the land. Later, I will edit the photographs which will be exhibited nationally and internationally. This kind of cross-cultural collaboration is essential to the project and will help the work have a lasting impact.
Specifically, I will create images of rapidly retreating glaciers, scarred landscape and exposed ground left in its wake, newly formed rivers from the ancient ice melt, shrinking icebergs and ice floes, images of and around the tiny settlements of Tasiilaq, Kulusuk, and Tiilerilaaq, abandoned villages, Inuit ruins, and vast, empty landscapes with traces of human intervention–all taken at dawn, twilight, or nighttime.
Recently there, 11 billion tons of melting ice were related in one day in August; fires, once rare, have scared the landscape; record-setting high temperatures are happening; suicide rates continue to be the highest in the world; Trump wanted to "buy" the country.
Set in extreme isolation is one of the largest and fastest retreating glaciers. Melting at about three feet an hour–you can almost see it move–is the Helheim Glacier, aptly named after the "realm of the dead" in Norse Mythology. This is climate change incarnate: so intense is the rapid melting that it creates a special category of earthquake known as a glacialquake. Most of the photographs will be made here.
Since my first trip three years ago, much has changed in Greenland; I want to return to see how. Most importantly, I feel it is crucial to complete this project in 2021 before the pristine Greenlandic landscape deteriorates further.
Artistic Approach
Part of my process is making images in complete darkness with extremely long exposures of an hour or more. Since it is nearly impossible to see through the viewfinder, I instead stand beside the camera "feeling" the image and intuitively framing it in the dark.
Artistic inspiration comes from painting and photography. This includes Hudson River School landscape painters such as Frederic Edwin Church, and others such as William Bradford, who explored the desolate coast of arctic Labrador, Canada. The mid-nineteenth century Canadian Group of Seven painters were also of interest. I am inspired too by photographers capturing changing worlds, such as Atget's Paris and Carlton Watkins' West, and those working at night such as Brassai.
I feel as raw land is exposed through the melting ice–as if a hidden truth is being revealed–I witness crushing forces of nature. The land is both evidence of a symbol of destruction. Melting ice in Greenland seems to be a metaphor for change.
Appendix: Sample Photographs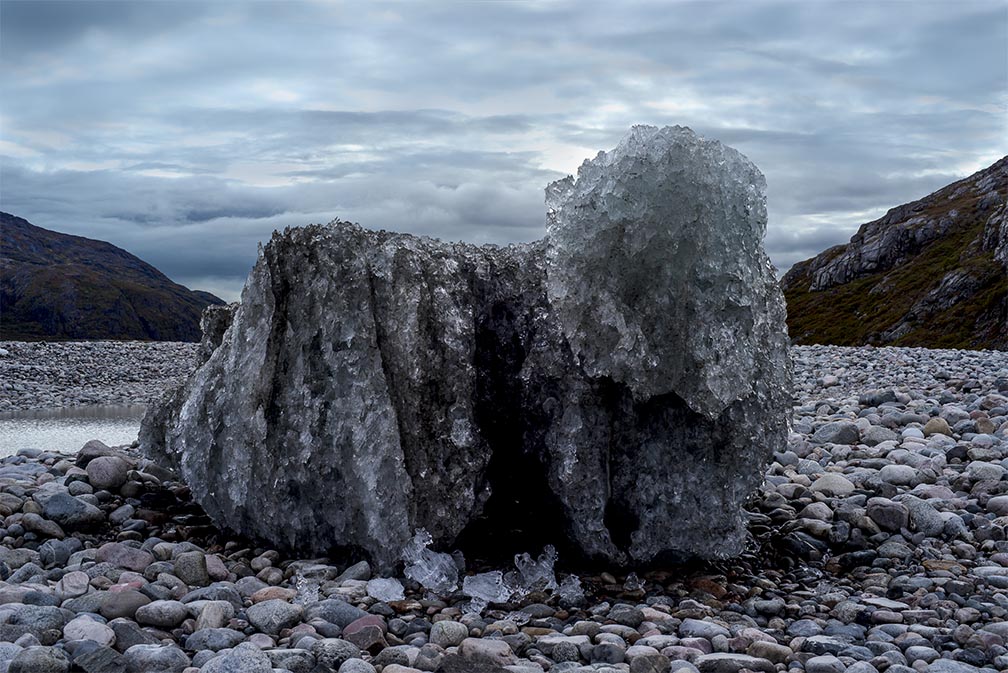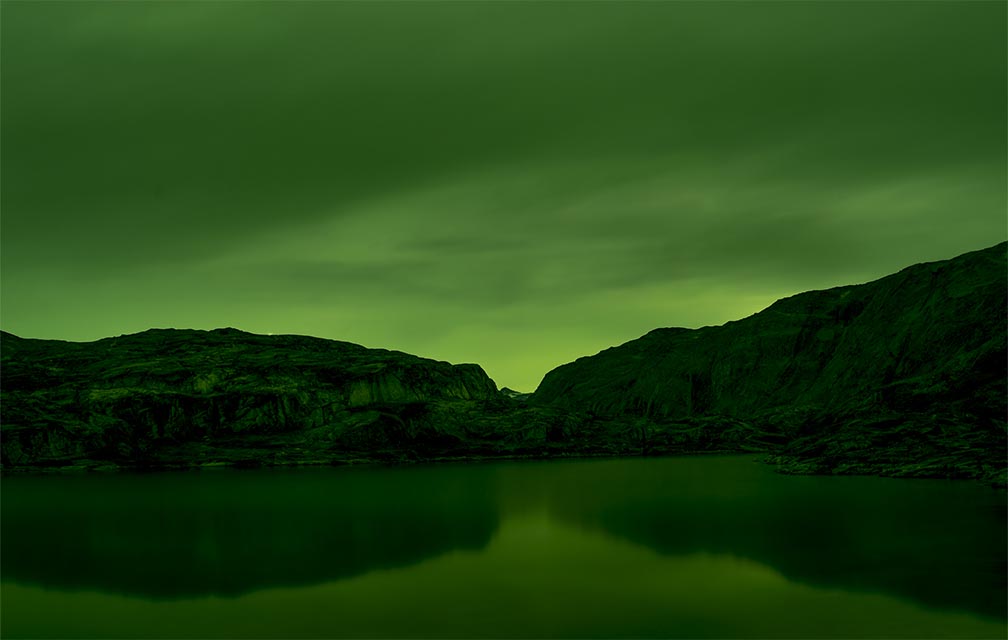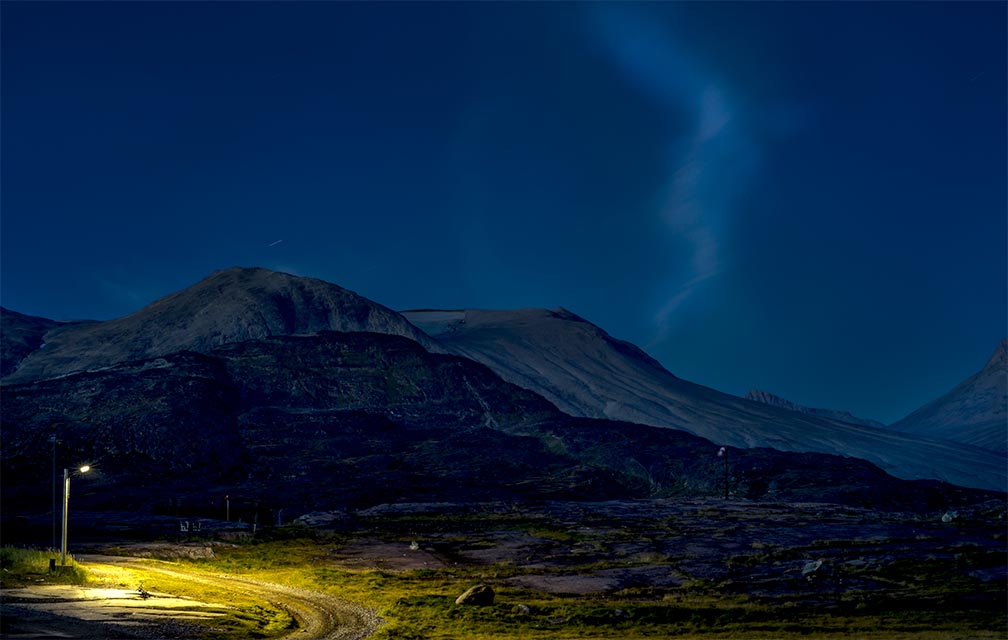 Print Details
18×24", Edition of 5; 2 AP. $3,500+
38×40", Edition of 5; 2 AP. $6,000+